In January 2018, I worked at 3 tennis championships in Brisbane, Sydney and Melbourne for 28 consecutive days. "You have a dream job!". This was the most frequent comment made to me in that month. But, seriously did I? The second most popular comment: "That's a nice watch!"
It was 5am when the alarm clock woke me on the 1st of January 2018, the New Year Day. "Do I really have to get up?" I was talking to myself under the breath. Today was day 1 of my four weeks of shooting tennis tournaments and Championship. Brisbane International, Sydney International and then 2 full weeks of the Australian Open at Melbourne Park. "I did the trifecta before so let's get cracking!" I pulled my sleepy body up. "But last night was the New Year's Eve and I didn't hit the bed till 2am!" I ignored myself. Got up, brushed my teeth, had a quick bowl of oatmeal then went on my way to the airport. I must admit I was not a morning person but I loved the freshness of morning air. I looked at my watch to check that I was on time for my flight to Brisbane. I smiled. I had a new watch on my wrist.


It was a good-looking watch in my opinion. Swiss Automatic Chronograph. Solid Stainless Steel case with Rose Gold Coating. Sapphire Crystal. Blue Dial with matching NATO Ballistic Nylon Strap. I placed the order back in March. It finally arrived on 28 Dec. It missed Christmas but I was content. Good things were really worth the wait. I had a dilemma 3 days before my trip. Should I wear the watch and subject it to 28 days of bashing around heavy photographic equipment, working in confined spaces of concrete and metals and potentially extreme temperature? You could find the answer at the end of this blog.

Brisbane was like a ghost town on the New Year Day morning. Apart from the friendly taxi driver and the taxi I rode on, I hardly saw any other cars or fellow human beings on my way to my accommodation. It was an Airbnb and I was told later that I was the first tenant ever, of this brand-new studio apartment. The front door lock must have been installed in haste the day before. I just could not get it to lock. "Perfect!" I said to myself. A perfect start to the New Year with more than $40,000 worth of photographic equipment that I carried and I couldn't store them at a safe place". May be my luck was not as bad as I originally thought. Two phone calls and 20 minutes later, the property manager showed up at my doorstep, on the frigging New Year Day morning. He brought with him some tools and I was all-good once again moments later.

Tennis must be popular among the Queenslanders, as the tennis centre was packed with fans and spectators on this New Year Day. I always liked Queensland Tennis Centre at which the tournament hosted. Pat Rafter Arena plus Show Courts 1 & 2 and Outside Court 6. That's it. All others are practice courts. Simplicity at its best! The first tournament of the year suffered some set backs as some big names pulled our citing injuries. Rafael Nadal, Andy Murray, Kei Nishikori. Garbine Muguruza retired in the second round, her fourth straight injury induced exit. Although the weather was quite muggy, we were spared of the unforgiving direct sunlight, thanks to the huge canopy which served as the roof of Pat Rafter Arena. Overall it was a pleasant and cosy tournament.
Photo: Andy Cheung / arckimages.com / UK Tennis Magazine

On 5 Jan I started working at Sydney International for Tennis Australia. It was a special year as seven grand slam winners contested the event, and 20 of the top 30 players in the female game made up the strongest field in recent years. As one of their only three tournament official photographers, I had much better access to players and was able to direct them during one-on-one exclusive photo shoots at some iconic locations around the harbour city. Reigning US Open Champion Sloane Stephens, Fabio Fognini, Diego Schwartzman, Mischa Zverev, Gilles Muller, Lucie Safarova, Llyeton Hewitt, Grigor Dimitrov, Alexander Zverev, Daniil Medvedev, Angelique Kerber are the ones I had worked with on set. There were a number of very hot days that week. When I said hot, I really meant it. On 7 Jan, Sydney Olympic Park recorded a record of 43.4 degree Celsius (or 110 degree Fahrenheit). The heat absorbing Plexicushion court surface of Ken Rosewall Arena (the same surface type as Australian Open) produced readout of rubber-melting 65 degree Celsius (or 150 degree Fahrenheit). Extreme heat policy did not kick in as the wet bulb thermometer measurement was below threshold due to low humidity. It was a desert-like experience for me and I recalled drinking at least 4 litres of water that day.
Photo: Andy Cheung / SMP Images / Tennis Australia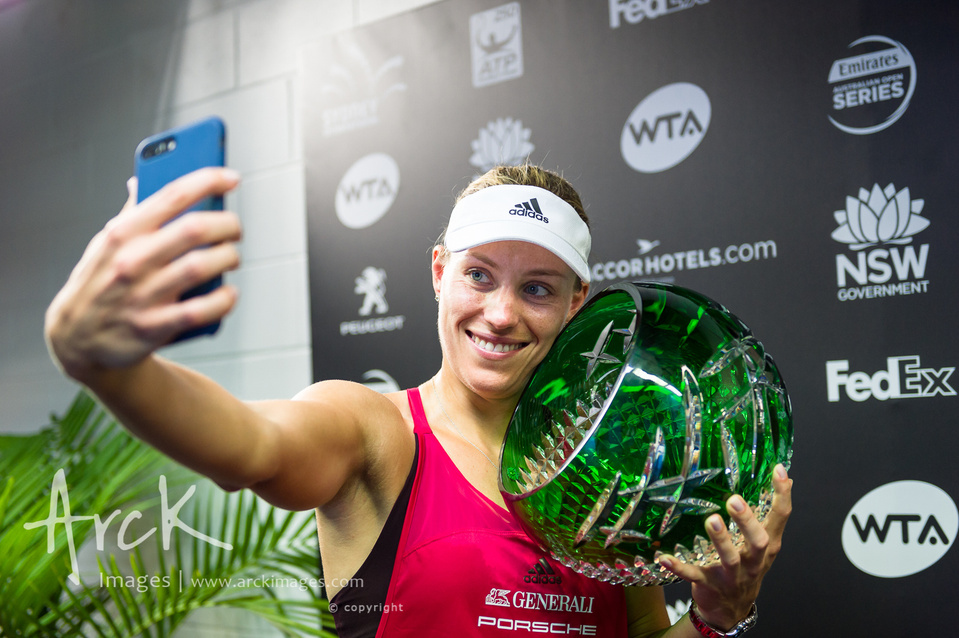 Melbourne did not promise any milder conditions. At the peak of heat wave, in true Melbourne style, Rod Laver Arena court surface gave a reading that surpassed the one in Sydney: 69 degree Celsius (or 156 degree Fahrenheit). Each day, we put on layers after layers of sunscreen and drank bottles after bottles of water, which fortunately had a plenty supply of. We were even provided a seat cushion to carry around so we didn't need to seat on scorching hot seats under the unforgiving sun. As photographers, we had the "bad" habit (some would argue that being essential) of carrying equipment on our shoulders, around the neck or waist. In my case, 2 pro bodies, a monopod and 5 or 6 lenses were standard issues. They weighed in at 15 kgs (or 33 lbs). So each day, I walked more than 10,000 steps carrying a load of 15 kgs and on some days, in extreme heat. Out of the 14 days in Melbourne, two of which I worked till 3am; four till 2am; the rest till 1am or midnight. A 12 to 14 hours day was pretty standard.

It was my 10th Australian Open. It had always been a special Championship with so much positive energy. Australian Open was affectionately called the "Happy Slam" for very good reasons. It could easily be any sports journalists / photographers' dream as it provided countless thrilling matches with many unexpected winners (honestly many of my personal pre-match predictions were unfulfilled). Working as the staff photographer of the UK Tennis Magazine, it was my privilege witnessing some of the significant events that have found its place in the tennis history book: the emergence of Hyeon Chung; Roger Federer's 20th Grand Slam titles; Caroline Wozniacki's maiden Grand Slam title.
Photo: Andy Cheung / arckimages.com / UK Tennis Magazine

Australian Open had an amazing media operations team who made our job at the media centre and around courts as smooth as possible throughout the 14 days of demanding work schedule. The Haagen Dazs ice cream was a nice touch! They kept reminding us to put on sunscreen and she personally brought icy cold bottled water to us on courtside on those days of extreme temperature. Our excitement also came from exploring the facilities at the brand new Tennis HQ that housed the media centre.

After I had shot 41,000 images, walked 200 kilometres while carrying 15 kg of equipment in the past 28 days, I was still unsure whether I had a dream job. But that was not a matter important to me. Because if you asked me would I spend the next January the same way I did this year. My answer would be a big "YES!" without hesitation.
As for my watch, yes, I took it with me and wore it in all my waking hours. I banged it on metal and concrete more than a dozen times each day. Each time it happened, my heart skipped a beat. After 28 days of very rough handling, the result was surprisingly pleasing. Not a single hairline scratch in sight on the sapphire crystal face. The solid stainless steel case looked as good as new. Even the NATO ballistic nylon strap was in great shape after sitting on a potion of sweat and sunscreen for 28 days. These images were taken after returning home from Melbourne.
Photo: Andy Cheung / arckphoto.com.au

p.s. In my daily prayers, I did not ask the Lord to put me at the right spot so that I could capture the money shots. Rather, I asked Him to grant me strength and good health so that I could endure the physical demands of the job.

p.p.s. To view my professional tennis editorial work, please visit arckimages.com